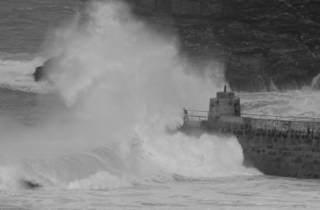 Utter Madness?_
Full size http://img12.exs.cx/img12/7900/wally3kh.jpg
Apart from injuring himself, his actions can cause problems for a lot of people.
Had this young fellow slipped or more likely, been washed off the pier, he would have needed rescuing, putting a number of volunteer and regular rescue services into danger. Had he then been recovered alive, there would have been the resources used to get him
to hospital and treated. What did he gain by his trespass and daring entry into poor surf? Nothing, as soon as he dropped in he was washed almost to the beach.